Now that it's finally starting to get a little milder outside, we can turn our thoughts to enjoying our balconies again. This is the perfect time to spruce up your outdoor space so you can take full advantage of the nicer days to come. Thankfully, it doesn't take much prep at all; you'll be enjoying some fresh air and the signs of spring before you know it. Read on for our tips on how to get your balcony warm-weather ready.
Clean Your Space Thoroughly
Let's take care of the basics first. You'll want to sweep away any dirt and debris that accumulated over the winter. Clean the floor area thoroughly, as well as your railings, paying special attention to the corners and any hard-to-reach areas. Once this first step is done, you have laid the foundation.
Wash Your Windows And Door
Now that your floor space is ready, you want to ensure you'll have a sparkling view. Tackle the windows next, as well as your balcony door. Wash them carefully, top to bottom, to remove all the built-up grime of the winter season and give you a fresh start. There's no need for harsh cleaners; you can do a great job with a couple of drops of liquid dish soap and water. Pro tip: for best results, clean your windows on a cloudy day. Sunlight can actually contribute to those annoying streaks.
Prep Your Outdoor Furniture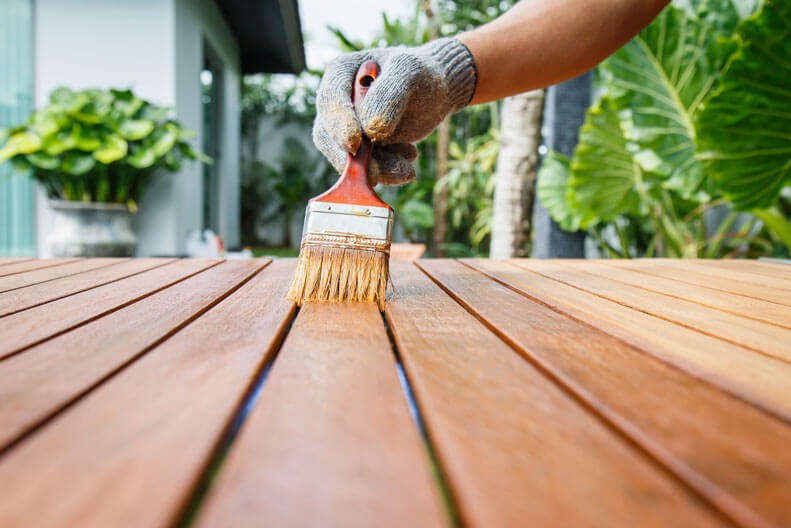 When getting your balcony warm-weather ready, make sure to clean and prep any outdoor furniture pieces. What you use will depend on the material your furniture is made of. A few drops of dish soap in water will work on rattan and wrought iron. With plastic patio furniture you have a few options: baking soda, vinegar, or mild detergent and water are all effective. Teak cleans up well with vinegar and warm water. Keep in mind that most materials require a light touch: a simple surface cleaning will do the job. Don't forget to clean your cushions too.
Plan Your Accessories
The best part of getting your balcony warm-weather ready is planning your accessories. This is definitely where you can have the most fun. You don't have to use coordinating pieces, as above, as outdoor spaces can look equally great done in a more eclectic style too. Figure out what kind of seating will serve you best, and plan which accessories you'll place and where. Pillows, extra lighting, a rug, and small side tables are decorative accents that lend comfort and a homey touch. You may want to hold off until the weather is consistently nice, but once it is, go for it!
Think Green
Balcony gardens are one of the greatest joys in life. You can design the garden of your dreams, full of beauty and variety. Choose pots or baskets, use planters or attach planter boxes to railings, or go vertical. Plan how you will fill your space, or if you're a minimalist, find the one or two plants that will create your ideal look. Think about which plants did well for you last year and factor in the amount of sun and wind you get. Whether you go streamlined with simple greenery or go all-out with brightly coloured flowers, you can create your own dream escape.
Our outdoor spaces are often an extension of our homes, so let's make the most of our balconies. This is sure to be a popular spot over the coming months; the more comfortable the better! Thanks for reading and don't forget to follow the Gemterra blog for more great home decor tips
How To Get Your Balcony Warm-Weather Ready